The Chopping Block: Migos Makes Us Question Quality Control On 'Culture II'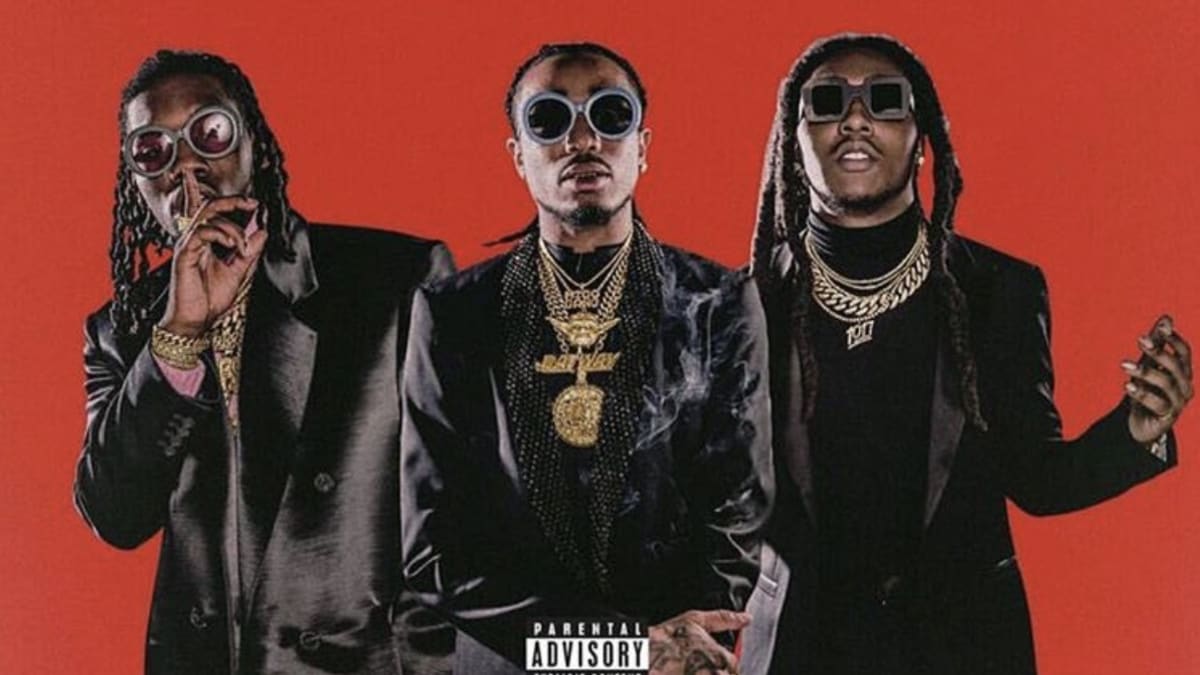 Lengthiness will be the drop that dilutes the Migos serum
When Migos posted via Instagram and Twitter that the Culture II album was on the way, I was ready. The timing is good for an act like them. Almost exactly a year apart, the first Culture album dropped on January 27th. Also, their media presence grew and bubbled on the way to this release, getting fans old and new in gear.
The next step was the revealing of the production graphic. I heard talk that Kanye West was contributing to this album a while ago. Rumors swirled that he would have a heavy hand on this one. I remember seeing footage of him in studio with Migos, so to see his name on it was great. Guys like Murda Beats, Metro Boomin, and C Note were to be expected, but Quavo getting some sounds together was a surprise. What might Huncho have in store?
I got a message from Ciz at [istandard] with an opportunity to do a 1 listen review with an ear on the beats. Suddenly, the spirit of Michelle Tanner came over me. I'm going to take a look at this album with a production lens. Let's talk beats, features, and the business, overall.
I looked at the track list and saw 24 songs. As a listener I don't think Migos needs to drop any project with that many tracks.
Me preparing for 24 songs from Migos#CULTUREII pic.twitter.com/5t8m7kcCM8

— Darren (@Darren_Gooden) January 26, 2018
Is this a casualty of the streaming wars? Are the executive producers feeling pressured to secure spots on multiple playlists? Did they get their hands on so many fire beats that they just had to put them all on the album? I don't know. Whatever the reason, I'll take on this challenge like a lion cub foolishly walking into a hyena's den.
---
1. "Higher We Go - Intro" Prod. DJ Durel, Quavo, Metro Boomin
For what it's worth, we're off to a good start. Quavo rides the swirling, low passed synth in the background well. The repetitive "higher we go, beg and plead for the culture" is the win here. The guitar pluck is throwing me off, though. I feel like it's out of place. That light bell in that background is a nice touch. I'm confused. The guitar pluck is gone from the rest of the song. I'm glad but confused. Aw man! Just realized they didn't bring back DJ Khaled for a healthy dose of "Don't ever play yourself." Now, I'm stuck thinking about the OG Culture intro.
2. "Supastars" Prod.  Quavo, DJ Durel, Buddah Bless & Da Honorable C.N.O.T.E.
Ok cool - something familiar. "Supastars" was released on January 22nd. I'm thinking about the sequencing now. Could they have dropped this one later on in the tracklist? I wish they would have hit us with some heat we didn't hear yet. I'll tell you one thing - the Honorable C Note and Buddah Bless tags let you know it's more than likely going to be some flame. I like this 808. I don't think I've heard it used a lot. Maybe it is a heavily used 808, but they engineered it differently than how I've heard before. I like this bounce. the switch on the 808 pattern is smart. Bass lines are important because I think they tell me "how to feel" sometimes. It might sound weird, but just trust me.
3. "Narcos" Prod. Quavo & DJ Durel
How did I know Offset would take lead on this one? His verse will probably be dope. Okay, we got the Spinz 808, a popular 808 sample. I expect to hear it a lot throughout the album. The flanging guitar riff is proper. It holds this song together and gives it purpose. Is there another Narcos season coming on Netflix? Is this song going to get synced? Takeoff didn't waste his verse on this one.
4. "BBO (Bad B*tches Only)" ft. 21 Savage Prod. Quavo, DJ Durel, Kanye West & Buddah Bless
Buddah Bless tag again - Dope! I love the horn sample. It's the cornerstone of this beat. That electronic plucking sound is a nice addition.
5. "Auto Pilot" Prod. Quavo & DJ Durel
The arpeggiating lead is some alien type stuff. The distorted keys that come in compliment it well. What is that vocal sample in the background?
I worked hard to not get any info on what beats Kanye did ahead of time. He doesn't use a tag, so it's like a game to guess what he worked on. Nothing really stands out as super Kanye-esque, so far.
6. "Walk It Talk It" ft. Drake Prod. Deko & OG Parker
At first glance, I see Drake's feature listed. This could be interesting. I'm not going to lie. This sounds like some work from London On Da Track. It reminds me of his song with Drake and 21 Savage, "Sneakin'." That murky, mysterious intro with the attack pushed off the bells is very London. The only problem is, he isn't credited on this album. I heard the Deko and OG Parker tags. Got it! I like that break with the snare switch up. I can hear the kids now - "WALK IT LIKE I TALK IT!" I'm disappointed in Drake's verse. He just dropped off some heat on "Scary Hours" and this feature doesn't measure up.
7. "Emoji A Chain" Prod. Mike Dean & Metro Boomin
Young Metro in the house! I'm going to check the liner notes later and see he was on earlier beats too, probably. I'm surprised I haven't heard a Murda Beatz tag yet. That warped talk box vocal play is fire! Sounds like a guitar twisting about, but you can hear words.
8. "CC" ft. Gucci Mane Prod. Quavo & DJ Durel
Gucci Mane and Migos have had good chemistry in the past. I'm hoping they execute here. I heard "Huncho," so I'll going to guess Quavo has a credit on this one. Whatever woodwind instrument that is low-passed and being played is funky. I like that the bass line isn't an 808. It gives us something different - kind of like on "MotorSport."
9. "Stir Fry" Prod. Prod. Pharrell Williams
I didn't realize "Stir Fry" was next. I'm happily surprised. This is a good pick me up to round out the first third of this album. I'm mad that I'm only 1/3 of the way through. I love Pharrell's production on this. It's a great diversion from typical Migos records. The drum compositions are dope, but he adds another level of differentiation with the synths and sounds he selects. My shoulders are jiggin' and my wrists are whippin'. All is well in the world.
10. "Too Much Jewelry" Prod. Murda Beatz
We got a Zaytoven beat! His flutes don't lie and he's a master on the piano keys. That "never too much, never too much" lyric reminds me of Gucci Mane's Wilt Chamberlain mixtape song. Generally, you know what you're getting with Zaytoven. His excellence is in the execution of what he does best.
11. "Gang Gang" Prod.  Murda Beatz
This sample is dope off rip. It dips into a lowpass filter for Takeoff to have space for his vocals - smart composition. It's a simple move that technically gives the instrumental a different look.
12. "White Sand" (ft. Travis Scott, Ty Dolla Sign and Big Sean) Prod. Da Honorable C.N.O.T.E.,Wheezy, Quavo, Travis Scott, DJ Durel &Ty Dolla $ign
The features on this got me interested. Normally I'd think that Travis has a production credit on it, but he has def given room to work with other composers over the years. Also, I have no idea how the song came together, to be fair. It's fun to think about, though. Okay, this song is doing its job just fine. I'm surprised at how well they fit so many artists on the track within 3 minutes and 22 seconds. Not too much, not too little. The vocal sounds/samples in the background are the icing on the cake.
"White Sand" is exactly what it needed to be. I'm thankful. #CULTUREII pic.twitter.com/Ptm1ARwsY4

— Darren (@Darren_Gooden) January 26, 2018
13. "Crown the Kings" Prod. Quavo & DJ Durel
Is that a "Get Up, Stand up" sample?! Impressive! Just send me this beat. No, send me the beat and the track outs of the sample and I'll just listen to those all day.
14. "Flooded" Prod. EarlThePearll & DJ Durel
Earl the Pearl on production duty. I'm not too familiar with him, but I'm pleased. It's like a lowkey grimy trap joint. I can hear this playing in video game scene or level where the character is on the way to fight a boss. It's kind of lingering, kind of creepy, and it has the right bounce to keep it moving.
15. "Beast" Prod. Murda Beatz
Uh oh! There goes a Murda Beatz tag. It's a good transition into the actual boss fight. It's funny that it's called "Beast." I'm not saying Migos set out to make some ultra cohesive concept project, but I'm not going to miss these little gems. These drums, man. I'm feeling the kick and 808 patterns. It's the right mix of "you can anticipate the composition" and "Oh snap, I didn't see that triplet coming!"
The drums on "Beast" sittin right. @murdabeatz_ #CultureII pic.twitter.com/j7u4hzqHfd

— Darren (@Darren_Gooden) January 26, 2018
16. "Open It Up" Prod. Cardo
I heard that brass and I didn't need to wait for the tags to know it's Cardo Got Wings. You might remember "Deadz" ft. 2 Chainz. I don't care how many versions of this beat I hear. Cardo gets it right. Its like he's assembling the troops and getting ready for battle.
Got a bih ready for war on "Open It Up" @CardoGotWings #CULTUREII pic.twitter.com/r8u1nklPSd

— Darren (@Darren_Gooden) January 26, 2018
17. "MotorSport" Prod. CuBeatz & Murda Beatz
Here's a familiar song. Good timing. We're just over the 2/3 marker of the album. This might be the second wind and boost we need to get through the finish line. Murda Beatz is back. I also remember checking credits when this single dropped. Cubeatz is also on deck. Fun fact: Cubeatz is a duo consisting of Germany's Kevin Gomringer and Tim Gomringer.
18. "Movin' Too Fast" Prod. Produced by Quavo, Manny Flexx & JSDG Beats
As I listen to this song, I can't help but think it would have been a good final track. I'm not saying the following songs won't be good, but from the exec production side, it feels like a good ending. Then again, I don't know what other things were at play in the decision making. The song is smooth. We get references of their grandma. They talk about struggles and you also get a sense of overcoming those challenges. the bells/synth and piano keys are a perfect match on this one.
19. "Work Hard" Prod. Quavo, DJ Durel & Dun Deal
Dun Deal on the track! This is similar to "Movin' Too Fast" lyrics wise. They're talking about struggles and overcoming them. The sonics are more upbeat though. There's a bit more jig in this joint. I wasn't expecting that saw synth.
20. "Notice Me" Prod. FKi
With Post Malone on the feature, I'm interested because of his "hit making" ability. For what it's worth, this one has an R&B lean to it. The beat is reclusive, in a sense. It feels timid, but the raps give it life. It's definitely a solid production from FKi.
21. "Too Playa" ft. 2 Chainz Prod. DJ Durel & Quavo
There's a DJ Durel shoutout at the beginning. Okay, then Quavo confirms it's produced by both of them. That saxophone is super smooth. Everyone knows 2 Chainz is the feature verse killer. Good call to have him give listeners a boost as we near the end.
22. "Made Men" Prod. Cassius Jay & Nonstop Da Hitman
I've definitely heard this producer tag many times before. I can't put my finger on who it is, this second. I'll see the credits later and wonder how I didn't realize at first. This beat has a more classic feel. The sample work is well executed. It feels nostalgic, but the drums balance it out to make a good Migos track.
23. "Top Down on da Nawf" Prod. Ricky Racks
We're nearing the end of the album and it feels like it on this song. Quavo's hook opens up with a line saying "I'm home. I could never get lost." This beat has a lot more room. They use it and tell their story without fighting against synths and other front-end instrumentation.
24. "Culture National Anthem" Outro Prod. Figurez Made It & 808Godz
We made it to the finish line! When I heard that piano intro, I thought of Zaytoven. That chant sound seems unnecessary. I gotta mention these pianos, again. They wind and tumble in a way that reminds me of Zay. I'm wondering if this song could have been cut in half. Once again, they did it "for the culture" and Quavo makes sure you know it.
---
The production, beat wise, is solid. I think it gets diluted because of how long the album is. The beats are there - well selected, but there are so many. A lot of the songs needed to be shortened, if not cut altogether.
I ended up wanting way more songs like "White Sands" that brought in different artists and gave me an uptempo beat that I want to hear on repeat. From an executive standpoint, if you're going to make a Migos project with such a long run time, it needs to have more features. That brings us back to the original point that listeners don't need this many Migos songs, in the first place.
Unfortunately, because of it's lengthiness, a lot of listeners will pick out the handful of songs they really like and have those on repeat. The legacy of this project will likely be that it was too long. That notion will be top of mind in most discussions
Submit to showcase with us!
[istandard] Editor / Content Specialist